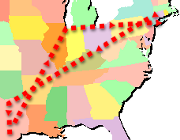 As you know, I fly a lot. I must admit I used to really like it but now that isn't the case. I view it as it comes with the territory–just part of the job.
A few months ago we had a family vacation and rented a house on the west coast of Florida. My sister and brother-in-law were supposed to fly in and arrive twenty minutes after we did. Well, five hours later they were still nowhere to be found. When they showed up, they told us the story about their delays in Houston that resulted in a fun day of travel…Not! Of course I said, "You went from Boston to Houston to Pensacola Florida? You have to be kidding!" They further explained that it was one of the only ways to get here and frankly the price was right. Under my breath I said I will never do that.
The reality is, I was wrong. LB and AB were right. Traveling with stops is probably the way of the future for most of us. Since I have always lived in a hub city for airlines, that has never been a problem. But with fewer flights these days (most airlines have 8-12% fewer flights than over the summer), and airlines struggling to show a profit, they will be forced to charge more for flights–and frankly in some situations, a lot more.
Because of this, for the first time in years I am looking at flights that have one stop if it is significant savings and in some ways it can be. As a business traveler, if I need to do this it will mean more time out of the office and a much greater potential for delays…especially since you are taking twice as many flights.
Are you looking at one-stop flights?

Have you noticed price increases on your flights?

Are you flying less than you did a year ago?
I look forward to reading your comments.