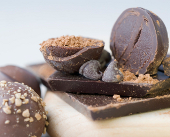 The contest is now closed. You can still take the survey to see how you fare, but there will be no prize. Click here to see the winners and view the correct answers.
If you are like me and not only have little kids but a sweet tooth, you probably are rampaging through the kids' Halloween candy and taking a few for yourself. Ok I will admit it I did this more than a handful of times. I was recently reading an article that mentioned that 35 percent of parents buy and give out their favorite candies on Halloween. About 16 percent choose their kids' favorites. Sounds like all of us are hoping that we have a bunch of candy bars leftover so we can help ourselves.
The question is how well do you know candy?
Time to take this quick quiz and find out. Yes there will be a prize for the winner. Any ideas what it will be? You guessed it: A surprise package filled with candy!
In the case of a tie this quiz will be timed with the person who gets the most answers correct in the shortest amount of time will be the winner of the candy quiz. This also is our way of hoping participants don't research the questions on the web.
Click here to take the Candy Quiz.
I hope you enjoyed the candy quiz. Scores will be posted daily. The contest will be closed at noon (CST) on November 20th, 2008. The winner will be announced at 3:00PM (CST) on November 20th.