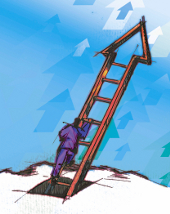 Time to work really hard!
Time to be a team player!
Time to think out of the box!
Time to be very customer oriented!
Time to make things happen at your office!
Time to make yourself so valuable your company can't live without you!
With the challenging economy, a day doesn't go by without someone I know calling/emailing saying they are now in transition. As of October 2008 new unemployment claims have hit a 16 year high! Yes, you have to go back to 1992 to see claims higher than they are now. That is an ugly thought to consider and I hope (although don't believe) that trend will change very soon. Every day, companies are announcing major layoffs. A few weeks ago, Citigroup, Union Pacific Corp and Sun Microsystems joined the list.
As of October the unemployment rate was 6.5% which is over 40% higher than it was at the end of last year. I am sure people who are reading this are saying I always worked hard. Maybe you did and maybe you didn't. However whatever you have done in the past should and needs to get kicked up a level.
I believe everyone has the capacity to get better at something every day! I strongly believe that people (not systems, not technology) make a difference whether a company exceeds or misses their goals!
The real question is, do most people try and do that or sit back and see what happens?
What are you doing to make yourself more valuable to your company?

Without giving away company secrets, what have you done to make your company more efficient?

When was the last time you made a suggestion to improve something to senior management?

When was the last time you showed something to a client and their reaction was "Wow, that is amazing"
I look forward to your comments.