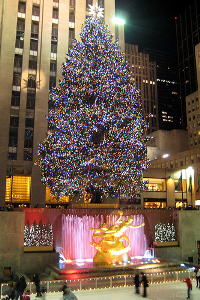 Over the years I have really enjoyed going to Rockefeller Center in New York City and seeing the beautiful Christmas tree. The tree lighting ceremony is pretty spectacular year after year. A few facts about the tree in Rockefeller Center:
The tree is typically a Norway Spruce.

The minimum requirement is that the tree be 65 feet tall and 35 feet wide

There is no compensation offered in exchange for the tree, other than the pride of having donated the tree that appears in Rockefeller Center.

Over five miles of lights are used to decorate the tree every year.

Only the lights and the star decorate the tree.

The tree is recycled and the 3 tons of mulch are donated to the Boy Scouts.

The largest portion of the trunk is donated to the U.S. Equestrian Team in New Jersey to use as an obstacle jump.
Living in Boston, I would also go and see the tree at the Prudential Center in Downtown Boston. Since that tree pales in comparison to Rockefeller Center, I won't even mention anything about it.
In the past few years we have had a nice tree. The kids seem to really like it and enjoy decorating and of course watching yours truly balance himself on a ladder to place the decorations on the top of the 12-14 foot tree.
What does your tree look like?

Do you have a tree decorating party?

Do you have a collection of ornaments that you showcase?

Do you have a place that you go to cut down your tree?
I look forward to having you share your comments and hearing about your traditions.
Happy holidays!