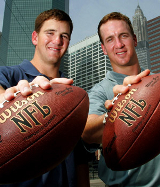 The sports industry has lots of great athletes. Athletes that can jump high, run fast, hit a 100 mile an hour fastball or stop a puck at some amazing speed. The question is who are your favorite brothers in sports?
Here are a few that come to mind quickly:
Football :
Eli and Peyton Manning
Tiki and Ronde Barber
Hockey:
Phil and Tony Esposito
Basketball:
Dominique and Gerald Wilkins
Horace and Harvey Grant
Baseball
Greg and Mike Maddux
Phil and Joe Neikro
We also have a few more in other sports with John and Patrick McEnroe and Jay and Jerry Haas in golf. Growing up in Boston I really liked Phil Esposito and the big bad Boston Bruins. His brother Tony played for the Chicago Blackhawks and since we lived there I also liked them so for me they would probably be my favorite brothers in sports.
Who are your favorite brother combinations in sports?

Who am I missing off the list?

Who is the best brother combination in sports?
I look forward to reading your comments and building a comprehensive list of brothers in sports.
P.S. I wonder if I had a brother, would that have given me a better chance to be a professional athlete? Probably not…but a guy can dream!