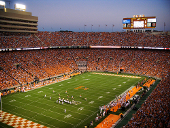 Last week I was reading an article in USA Today that highlighted the top 10 great places to stand and cheer college football. It was a good article that highlighted a number of great schools and stadiums. The stadiums that made the list were:
Certainly great schools with rich football history. To me there is one interesting thing ( I am sure there are more) they all have in common. I have never, ever gone to a football game there! I was surprised with all the sporting events I have been to, I haven't been to games in any of these stadiums. In fact the closest I have ever been to any of these is I visited Husky Stadium with a friend (hi KA) years ago and recently visited Folsom Field with a colleague (RW) a few months ago and drove by Camp Randall Stadium a few times. That's it. Never tailgated, never saw a game, never experienced a game there!
So since I don't have any stories from those schools I stopped and thought about what would make my list. Here are a few:
The Big House–Ann Arbor, MI. I went to a game with my buddy (GS) years ago and was amazed at how big the stadium was (107,000 people) and how easy it was to get in/out of. Also I was surprised to be close to the stadium but really couldn't see it because it is built down not up. We sat in the student section and stood the ENTIRE game. What a great time!
Michie Stadium–West Point, NY. Wow! What history! What emotion! What a great campus and truly a beautiful stadium. Even though the stadium is relatively small, it was an amazing experience
Alumni Field–Chestnut Hill, MA. Another small, beautiful stadium, lots of spots to tailgate. Have actually been down on the field during a game and had an amazing time.
Have you been to any of the stadiums on the USA list?

How was your experience?

What stadiums make your list?
I look forward to reading your comments.