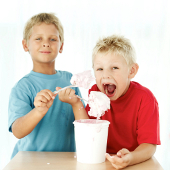 Our parents tried to teach us this as kids. Probably we weren't very good at it when we were little but hopefully over time we have gotten better. You are probably asking yourself "what is he talking about?" I am referring to sharing.
Raise your hand:
If you sent a really cool proposal to a client in the last week.

You presented a capabilities presentation recently and you were really excited about a few of the slides!

If you learned a new way to do something in Microsoft Excel or Word in the past few days!

If you found out something interesting about one of your clients.

If you read an article about a company that you believe should be a client of yours!
My sense is that if most people were playing along with this exercise their hand would be raised.
The real question is what do you do with that knowledge or information? I would say that most people do very little with the information. They file it away in their brain and go on and do something else in their busy day.
Before you file it away, all of us should do one more thing and add one more step to the process.
Share the knowledge and information. Send out an email to co-workers that you believe could benefit from hearing from you. Walk over and share the information with someone in the office. Pick up the phone and tell someone about it.
We were all taught about sharing many, many years ago, but do we really do it as much as we should?
How good are you at sharing?
What things do you tend to share? And with whom?
I look forward to reading your thoughts and comments.