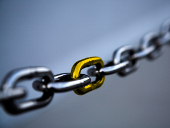 The English language has so many words. So many great words. So many powerful words. I believe the most important word to me and our company is an eight-letter word that starts with an "R". The word is "relevant".
With the economy being so challenging and lots of companies experiencing so many bad things, the companies that are the most relevant will have a strong 2009! And have the best chance to exceed their goals. As part of our core strategy we want and need to be relevant!
In recent company and Omnicom presentations, I stressed that there are four different groups with whom we need to be relevant:
Clients

Staff

Industry

Omnicom
Each of these groups are critical to our success.
With our clients we believe research is a critical component on the road to recovery. We need to be relevant with our clients and ensure our recommendations and insight are flawless.
We need to be relevant with our staff. We need to ensure that we give people the proper training, guidance and ability to do their job.
With the industry we really want to be relevant with articles, conference presentations and being part of committees to move the industry forward.
With Omnicom we want to be relevant and ensure that our company is integrated with the other 200 companies. In addition, we want to deliver insight and recommendations to our brother and sister agencies to put them in a position to be successful with their clients.
So for me, how relevant we are with those four groups will determine our success in 2009.
What is your single, most important word for 2009?

Have you communicated that word and strategy to the company?
I look forward to reading your comments.