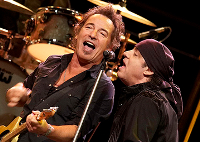 When I think of Las Vegas, I think of a number of things: fast paced action and gambling, spas and of course shows. Great shows. Over the years I have seen some amazing shows and concerts. I really enjoy going to a show at the Coliseum at Caesars Palace. If you haven't been there, the venue looks much bigger than its 4,000 seating capacity. In the past Elton John, Bette Midler and Cher have had long sold out runs at the Coliseum.
The question is who else can do it?
Who can pack the house night after night?

Who would you pay $150+ per ticket to see?
Before I share with you my list, please remember my earlier posts which illustrate that my musical taste is weak at best.
To fill the coliseum night after night the entertainer needs to appeal to a lot of people and captivate an audience for 90 minutes. So who can do it?
Here are a few to think about:
Bruce Springsteen — without question. He is amazing and could have a long run there

Liza Minnelli — classy lady, beautiful voice, amazing stage presence

Jimmy Buffett — fun time had by all. Buffett could do some really wild things in Vegas

Madonna — still has a tremendous fan base and great costumes (perfect for Vegas)

The Beach Boys — fun concert. They have so many hits you lose track.
I think my top two choices would be Madonna and Bruce Springsteen.
Who makes your list?

What do you think of my choices?
Look forward to reading your comments.