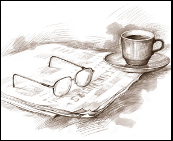 I try and read USA Today every day. Over the past few months as the economy has been bouncing around from good to bad to real bad I have noticed more and more companies taking out full page ads in USA Today and trying hard to get their messages across. Most of the ads are playing off the economy. Over the past few weeks I began to save these ads and I thought I would share the headlines of the ads with you.
| | |
| --- | --- |
| We can't afford to do without the U.S Auto Industry. Here's why. — GM | |
| It's hard for investors to trust anyone right now. So why are so many trusting Schwab? — Charles Schwab | |
| There's never been a better time for a second opinion. Or a better time to talk to Ameritrade. — Ameritrade | |
| In these Challenging times, Merck is here to help. — Merck | |
| Providing stability. Securing the future. — CITI | |
| The faces you know. The service you trust. — Wachovia | |
| Simplify your holiday travel life. — The Airport Valet | |
I will admit that some of these ad headlines don't really work for me. I don't like the GM ad. I realize the industry is hurting and needs some government help but I prefer positive ads rather than going negative. I really like the Wachovia message. For me it is short, to the point and focuses on service which I really look for in dealing with a company.
I am curious which ad really made a difference to you

Which ad got their message across?

Did any of the ads make you do something different with the company?

Which ad do you not like?
I look forward to reading your comments.