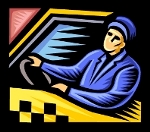 A few weeks ago I was in NY and since it was freezing and I am lazy, I was in a number of taxi cabs. As I have mentioned in previous blogs I try and notice everything no matter where I am or what I am doing. This trip was no different. Every time I was in a cab and we were almost at my destination the cabbie asked,
"Would you like me to pick you up later?"
"Do you need a lift tomorrow?"
Since I still have my Boston accent the cabbie assumed at some point I would have a need to go to the airport and a few of them asked, "When are you leaving NY, and do you need a ride to the airport?"
I know many readers might be saying: "So what! What does that have to do with anything? Thanks for the nice boring story!" Well the question is, are any of us like a taxi driver? Think about what they all did. I am a customer of theirs, giving them money so they are generating revenue, and at the end of the trip they are asking for more business. I think it is great and probably works with a lot of customers.
When you are finishing up a project for a client do you ask for more business?

Have you had any success in doing this?

How proactive is your sales strategy with your current clients?

Is your company positioned to have more than just new business development people ask for/initiate new business?
I look forward to reading your comments
P.S. I called the taxi driver back on one trip so his strategy worked with me.