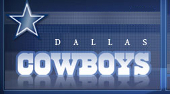 This contest is now closed. Click here for the official leader board and quiz results!

As you know, I have gone to a lot of sporting events over the years. I enjoy everything about the experience–from the opening kickoff or pitch, to seeing kids laugh and smile during the game, to seeing a massive home run or slam dunk.
During the last four years I have been to Texas Stadium almost fifty times to see "America's Team" play. During that time I have seen some amazing games. Last month I had the opportunity to watch the last game at Texas Stadium. The game featured the Dallas Cowboys and the Baltimore Ravens. I wish the outcome was different since the Cowboys didn't win their last game at Texas stadium.
As a tribute to the Dallas Cowboys, Texas Stadium and their fans all over the world, today's post is a quiz about the team and the stadium.
The quiz will be timed in case we have a tie. In addition, the questions will be randomly rotated so not everyone will get the same questions.
And who knows what the winner might get?
The contest ends at 5:00 PM on February 10.
Good luck to all!