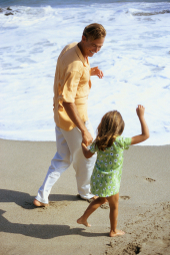 Kids are the best. No I mean it. Yes, I realize that my kids will do things that I don't appreciate like using a Swiffer to clean the outside of my car — nice idea but they left tons of scratches and frankly didn't really clean the car.
A friend of ours (KW) came over for dinner Monday night and during the conversation said something very interesting. She said "just wait until Morgan is older. Let's see how you handle that!" I thought about that for awhile and came to the realization that I might be in trouble.
Yes I love all my kids — a ton — but when she looks at me with those big blue eyes, I have this feeling I might give in more than I want to. I might just say yes a lot quicker than I will with her brothers. I wonder if I will dig a little deeper into my pocket for some money, give her the car keys or let her stay out later than her brothers.
I hope as the kids get older we have the same rules across the board, but I have no idea if that will really be the case. Because she is daddy's little girl!
Even though she is too young to realize it, I am starting to feel it. As you are reading this you are probably understanding that I am the softy in the house. I think to some extent that is right. Maybe I will get a little tougher as I get older – ok probably not.
Ok help me out!
How much trouble am I in?

Do you give daddy's little girl everything?

What special things do you do with your daddy's little girl?
I look forward to reading your comments.
P.S. Do I have to play dolls?