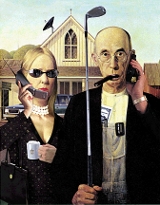 A few weeks ago I was walking through LaGuardia Airport on my way to my gate when I stopped to get a shoeshine. I sat down and started to speak to this true New Yorker–he wore a Yankee hat, had a big accent and was very talkative (no disrespect to any New Yorkers reading this).
We were having this nice discussion when I asked him, "What time do you get here?" As most of you know I tend to take early flights and today was no different since I was at the Airport before 5am.
He said "I got here a few minutes ago since I live across the street." I was a little surprised and said, "Really…" and before I can say another word, he responded, "I like everything in my life to be easy."
I started to think about the different aspects of living in Dallas and really thinking about "Is it easy?"
Here are five things in my life that are really easy:
Traveling to/from work – only 12 miles away

Flying out of DFW Airport – my office and home are 10 minutes from the airport

Working out – I have a gym in my office and 1/4 from where I live

Going to sporting events – great access to/from all the Dallas Stadiums. Rarely have I run into a major traffic jam

Weather – Wow! How great is the weather without snow?
For me it was very interesting to think about.
What is easy in your life?

What isn't easy that you would like to be?
I look forward to your comments.