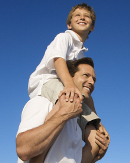 On my way into the office I was listening to sports radio (I know you are surprised!)The discussion was about Tony Dungy the coach (or actually ex-coach) of the Indianapolis Colts. The sportscasters were discussing all of the players they had talked to in the past few days and each of them said that Tony taught them so many life lessons. They also started to toss out words that describe Tony Dungy — words like professional, classy and gentleman. It gave me a moment to pause and think about my dad and all the life lessons he taught me. I started to think about what words I would use to describe him. Here goes:
Hardworking

Giving

Over-achiever

Integrity

Stoic
I must admit this was a fun exercise but found it hard to narrow it down to five words.
Okay, your turn. What five words would you use to describe your dad?
I look forward to reading your comments.