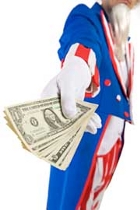 Yes the economy is a mess, and yes lots of companies are hurting and many are going out of business. Early last year the government bailed out AIG and gave them 85 billion dollars. A few months after that, the government decided to give the U.S. automakers 17.4 billion dollars. This was after they gave the three auto presidents a tremendous amount of grief for flying on private jets, coming to Capitol Hill without a plan and … of course asking for billions of dollars…. (Why wouldn't they get the money? Note to self — when you are asking for money–lots of money–don't bother with a plan. You get much better results without one.) Sorry I digress. That isn't what this posting is about.
What I really want to know is how does the government decide whom to help out and whom not to? Of course there's the BIG question: Why bail out AIG and not Lehman Brothers?� And there are tons of retail stores struggling. Yes I shopped at Sharper Image – I liked the store. Over the years I have shopped at Linens and Things. (Stop laughing! I was single!) I believe Cache and Talbots have also gone out of business. Gap is closing 85 stores — who hasn't shopped at the Gap? Apparently not enough people. Disney is closing 98 stores (with more coming) — who doesn't like Mickey Mouse! You get the point.
The question again is what are the criteria for deciding who gets billions of dollars and who doesn't?
Is it based on how many jobs the closing affects?

Is it based on if Capitol Hill shops at those stores?
We know it can't be based on who has the best communication, plan or presentation skills! Because if that is the case, I will enlist friends Steve Schlesinger, Frank Luntz and Jeffrey Lorber and we will go secure billions for our companies!
Is it based on if they think the money will help?

Is it based on if the companies ask?
What are the criteria?
I really don't know, don't understand and need your help with this one.
I really look forward to your comments.