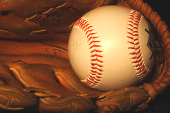 The last pitch for the 2008 season was thrown months ago on October 27. Since then teams have all tried to improve themselves.
Some teams have signed free agents, while others have concentrated on resigning their own players. Some teams have cut their budgets and will be going with some rookies and inexperienced players hoping they can stay competitive with the high payroll teams like the Yankees, Cubs, Mets, and Red Sox. Did I mention the Yankees on that list! Of course I did! While most teams acted fiscally responsible, the Yankees decided that they would toss around hundreds of millions of dollars to Burnett, CC and Tex. Let's see if it works.
For me, I am excited (of course) about my Red Sox. Although they were outbid on a few free agents, I like who they have added to the team. Smoltz and Brad Penney should help the team. If Beckett, Ortiz, and Lowell are healthy, watch out! Our pitching will be solid and our young players are awesome.
Most Yankee fans (AJ) think they have a lock on the AL East and will win 100 games. Think again! That will NOT happen. They will win over 90 games but that team has lots of question marks. Cano never hits until the end of May. They have no center fielder. Damon, Matsui, Posada (whom I love) are coming off injuries and will probably struggle. CC will be great and Burnett has as much chance to be successful in NY as he does to be a bomb! Not sure what will happen — look at his career stats — they aren't that good. And frankly I still believe in the Curse of AROD (who continues to win personal awards but doesn't have a World Series trophy and NEVER WILL!)
With spring training starting, how do you feel about your team?

What rookies are you excited about?

Who do you think made the right moves?

Who do you believe didn't, and will be out of it by the end of May?

What questions does your team have?

Who do you think will be playing in the World Series–which by the way will be in NOVEMBER! Yes November! Probably in a cold city!
I look forward to hearing your comments and how you feel about the upcoming season!
I love this time of year!