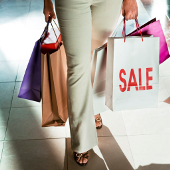 A few weeks ago I read a funny headline. It said, "ALL I WANT FOR THE HOLIDAYS IS CUSTOMERS!" I thought about that and chuckled for a minute or two. Clearly the headline was accurate. This holiday season was down, in fact way down from the past few years. Now that the holiday season is past us, it will get a lot worse for retailers before it gets any better.
Attention retailers: These days consumers want a deal. THEY DON'T WANT A GOOD DEAL, THEY WANT A GREAT DEAL!
Frankly, I am no different. I want to buy something on sale. If it's 25% off, I like it. If it's 30% off, I like it even more. I believe the average consumer wants a 2 for 1 deal. Or buy 3 get 2 free as I saw in the grocery store yesterday. Lots of retail stores are not only giving you a deep discount but future $$$ off for future visits. Kohl's had a promotion that for every $50 you spent you got Kohl bucks to spend during a visit that had a two week window.
To me it is simple. If you want customers these days, you had better have great promotions. You need to be giving away stuff. You need to make sure the consumer (me) feels they are getting a good deal.
We had a friend over our house last week who was saying she wanted to buy a few items online but was waiting until the company had free shipping. I don't think she is alone in her thinking.
Retailers need to get creative with their promotions. I feel strongly that this will happen in the months to come.
When we were growing up, retail stores would often have loss leaders. Well I think lots of stores (if not all) are doing that now.
Do you agree with what I am saying?

Are you waiting to buy something until it goes on sale?

Are you buying more things on sale these days?

Do you feel bad if you don't buy something on sale?
I look forward to reading your comments.