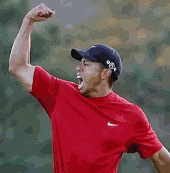 Let the debate begin. Who is the all time clutch athlete? This is probably one of the biggest, hardest and longest sports debates of all time. Every fan has an opinion and probably can make a case for their argument.
Clearly if we had a top ten list three very quickly make my list
Tiger Woods

Michael Jordan

Larry Bird
Each of them was the best in their sport.� Each of them could finish a game or round of golf. Each of them could take over their sport at the end and always seemed to rise above everyone else. In sports that have teams it always appears that everyone looks to these people to take them home, win the game, win the trophy. It's sort of "hey jump on my back and I will carry all of us across the finish line."
There have been great clutch hits/putts/throws, but some of those only happened once and that's it. People like David Tyree who got the winning touchdown in last year's Super Bowl.� That was clearly a great, clutch catch. However he would never make the list because his claim to fame is probably over. He did it once and that will be it.
Who is on your all-time clutch list?

Who do you want up at bat in the bottom of the 9th needing a base hit?

Who do you want throwing the pigskin when it is 4th and 11?

Who do you want at the foul line with no time on the clock and two foul shots needed to win the game?
I look forward to your comments.