Things are changing so fast. I guess every generation can say that, but for me things seem to be moving faster than normal. The web is such an important business tool for me. Whether it is emailing business contacts, clients and friends or doing some research about a prospect or looking for an image to include in a conference presentation. All of those things are critical to saving time and making things happen…quickly. Over the past few years social networking sites have exploded. Names like Facebook, MySpace, LinkedIn, YouTube or Twitter are common to most of us and used by many of us. Below is a recent ranking of the top 25 Social Networking Sites.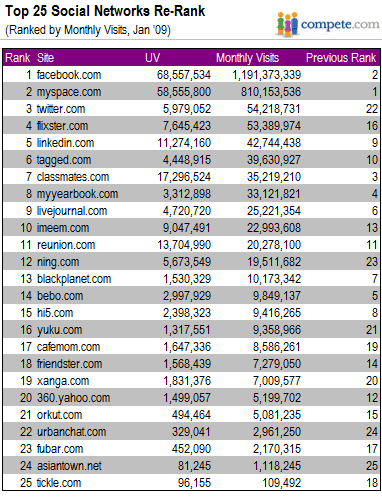 For me I have a Facebook (123 friends) page and with every day get a little more comfortable. With LinkedIn (184 contacts) I haven't really used it that much. Only dabbled. What am I missing? YouTube has been a good resource for including videos in presentations. For me I like to mix it up a bit and drive home a point with a video. Plus it allows the audience a chance to get involved with the presentation a little bit more. I have just started to use Twitter and kind of like it. I have about 64 people I am following and 141 followers. It is quick and allows you to stay connected to friends and information.
The question is what are you using?

What are you comfortable with?

How often do you post?

How big is your network?

What do you use it for?

How has it helped you in business?

Other than this blog what other blogs do you read?
I look forward to reading your comments.
P.S. Feel free to include links to your social networks in your comments.