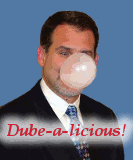 What do all these names have in common?
Rooster
Reptile
Shu
Zeicko
Woodman
Busheeeeeee
Easy. To me at least! They are all close friends of mine. Those names are nicknames! Some of them I gave them and some I have no idea how they evolved. I am sure you are reading this posting and thinking, "Okay. What do Merrill's friends call him?"
Over the years I have been called many names. Some probably not so nice names, but I will focus on what my friends call me:
Dubes
Dubrowsky
Dubeee
Big Daddy
I think my favorite is Dubes which most of my friends call me. But I like all the others as well. I think nicknames are really cool and in some sense a term of endearment.
What do your friends call you?

How did you get the nickname?

What are some of your friends' nicknames?

Do you have nicknames for your kids?
I look forward to hearing your thoughts.