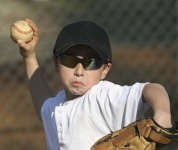 So there I am on a Saturday. The sun is shining, the weather is beautiful and the kids are out on the baseball field playing catch. It is opening day of T-Ball and my 5 1/2 year old is out on the field with a huge smile, baggy pants and a glove in his hand.
In the first inning of the three inning T-Ball game, my son is playing pitcher. He has all the extra protection on that the pitcher is supposed to wear and he is in baseball ready since most of the action comes to the pitcher. Well sure enough the first play is hit to him. He actually stops the ball with his hand (who needs a glove Dad) and now has to figure out where and how to throw the ball. Did I mention Riley has his glove on the wrong hand? I guess we should have noticed that earlier and didn't because since he is a righty and the ball is in his left hand he proceeds to throw his glove to first base as opposed to tossing the ball! Yes it was funny — a classic — one of the funniest things he has ever done until he decided to top that one inning later.
He is now in the outfield and the ball is hit to him. Yes he has his glove on the correct hand, but instead of using his glove to stop the ball he actually takes off his hat and stops the rolling ball with his hat! Yes with his hat! He had a huge grin on his face from ear to ear and finally the coach went over to Riley and patted him on the head and took the ball from his hat.
Thanks Riley for two hysterical and funny memories!

What are some of the funniest kids stories that you can share?
Kids are the best!
I look forward to reading your stories.