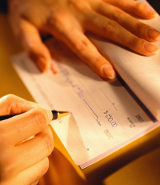 I am sure that title got your attention! Usually when I go to conferences or talk to industry contacts, the conversation is about, sales, strategy and motivating the team. Recently there is an additional topic that seems to make it into the mix: Accounts Receivable. Questions are being asked like:
What is the average time that a client pays?

How is your bad debt?

How is your cash flow?
Clearly the economy has made a lot of things challenging and accounts receivable is one of those things. Clients that typically pay 35 days now pay 50 days. Clients that used to pay up front are taking another week to pay and I have heard some stories that companies have ended up in court over some bad debt. Thankfully that hasn't happened to us.
One of the things that we have changed and it has helped a little bit is we now take credit cards. This strategy has worked for a few accounts which were smaller research companies who wanted to pay but just needed a little flexibility and by paying by credit card it allowed them to pay faster.
Have you noticed the same thing in your business?

What are you doing about it?

Have your payment terms changed since the economy has taken a dip?

What do you do for new clients?
I look forward to your comments.