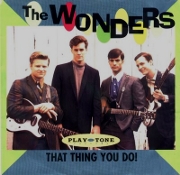 Here today gone tomorrow! Worked your way all the way to the top only to get there and come crashing down real fast. Who makes the list of one hit wonders? Is it Mark Fidrych the phenom pitcher from Massachusetts who played for Detroit and had an amazing 1976 – was 19-9 and almost won the Cy Young Award? He would dance on the mound, talk to the ball and then get people out. He was amazing. After that year, we never really heard from him that much. In fact he won 19 games in 1976 and only 10 more during his career. Another baseball player was Joe Charboneau. He was the rookie of the year in 1980 and never did much after that.
What about Toni Basil with her 1982 hit "Mickey?" And of course there was My Sharona by the Knack, which was the number one hit during my senior year of high school. It seemed like they were on top for months! What ever happened to them?
Does Bo Derek qualify as a one hit wonder? She was the girl in "10" with Dudley Moore. I know she did a number of other films and shows but did she peak really early?
Over time there are probably a ton of one hit wonders!
Who makes your sports list?

What about movie stars who were on top for that one hit?

What about singers or bands who were only on top for a cup of coffee?
I look forward to reading your comments.