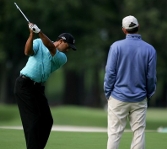 Over the past month I have presented at a number of conferences. Most of the slides are customized, but one that I always use is about Tiger Woods. I pull out the Dallas Morning News Sports section from June 10th, 2008.
I realize that some of you are probably saying,"He actually still has the sports section from 10 months ago – he has to be nuts." Well that statement is probably true, but this section had a huge impact on me. The picture has Tiger Woods putting while Hank Haney his swing coach is sitting on the ground watching him. Actually coaching and critiquing him.
Think about this for 30 seconds. You have arguably the greatest golfer in the world, perhaps ever! Taking a lesson, getting better! Trying to improve his game! Actually listening to someone! Are you kidding me?
Of course I want to be like Tiger Woods but for different reasons than you might think. Sure the fame and money is probably awesome. But I want his desire and thirst to always be the best! To always get better! To always improve myself.
Everyone talks about "I want to get better", but do they really?

Do they know how?

Are they willing to put in the time?
I have tried to base my entire career on getting better and still have a long way to go. Some of the ways I try to get better are:
Listening to people I respect

Reading

Trying to accomplish new things

Evaluating why I didn't have success
Now it's your turn:
How do you get better at something?

What lessons do you take away when you aren't successful?

Do you have mentors who help you along the way?
I look forward to reading your comments.