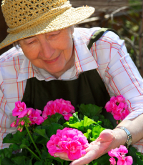 In less than thirty days it will be Mother's Day. What better way to start to get into the mood than to talk about your mom?
Describe your mom in 5 words!
For me this was really interesting and challenging. My mom is very unique in so many ways. I love her sense of humor, the way she loves to give me advice. I love to eat, no really! If you haven't had a meal with me, I have a big appetite and I got that from my mom. My mom also has a high metabolism so the calories tend to burn off pretty quickly. She also has a lot of energy, works out and plays tennis still 3-4 days a week and she is over 70. Wow! I hope I can walk at 70, let alone do anything active. I also got her crazy sense of humor.
There are also differences. She isn't happy if she isn't cleaning or doing the laundry. When I was younger, I remember taking clean clothes and getting them dirty just so we had a little more laundry for her to do. She loved it!
Ok here goes with my 5 words to describe my mom:
Funny

Caring

Family-oriented

Energetic

All-knowing
I must admit this was a fun exercise but found it hard to narrow it down to five words. For me harder than describing my Dad.
Okay, your turn. What five words would you use to describe your mom?
I look forward to reading your comments.