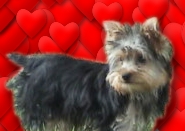 For as far back as I can remember we have had a pet. Always a dog and always loved the dog. Played with the dog for hours when I was growing up and still have a dog named Boston right now. I think if I come back as a dog I want to be her. She goes to the groomer every week to play with her friends and take a bath. Gets her haircut every two weeks, gets her teeth cleaned every other month (she has bad breath) and most recently had to have a small operation to remove a cyst. She was put under but came through like a champ and is doing great.
The kids love her and we think of her as part of the family although we don't take her on vacation.
I was in NY last week and was thinking about what would we do if she needed a major operation? How much money would we be willing to spend? I started to have this discussion with others at the MRA Board Meeting (okay, the secret is out of the bag–now you know what we talk about). Larry Brownell and Michael Mermelstein gave their two cents and others started to get emotional and chime in.
Easy questions like, "Would I spend $300?" Yes. "What about $800?" Yes. "What about $1500?" I think we would say yes. But I don't know.
For me it would depend on recovery time. It would depend on will she be comfortable and yes probably also on money. I don't think the current economy would play into it, but it could. It would also depend on how long we have had the pet. I believe we would do more for a pet that we had for nine years than one that has been with us for four years.
Have you been faced with this decision?

What did you do?

How far would you be willing to go?

Do you have pet insurance?
I look forward to reading your comments.