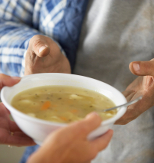 I realize the economy has forced people to change a lot of things about their behavior. In the past many people I know have given lots of money and time to charities, schools, religious affiliations, sports teams and industry associations. With what is going on in the world people may have to cut back their financial donations. But I hope they still have some time to give to charities.
It is SO important to continue to give to charities and associations. They may not say it, but they need your help more than ever. A number of our staff are doing good things. JH has been our lead and working with a team to adopt an elementary school. Our intent is to help with reading to the kids and clean up some of the areas around the school. In addition we have also participated in a food and clothing drive.
When I was at the MRA CEO Summit a few months ago, there were a number of contacts who were engaging in some really exciting activities. It seemed to be a topic of conversation and companies are more compelled to help out others during this challenging economy. Good for them! That is the right attitude and spirit! My friend KT did something really cool. He had all his friends and some corporations donate old and new shoes/sneakers and then he drove around on his bike handing them out to homeless people in Dallas. Way to go KT!
What are you doing to give something back?

Are you giving more time than you have in the past?

Are you doing things on your own or as a family?

Does your company have a program to give something back?
I look forward to reading your comments.