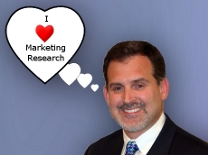 As the month of May quickly approaches, it reminds me that I graduated college 25 years ago! Wow a long time ago. During that time a lot has happened with many changes. I have gotten married, have three kids and moved a number of times. No matter what changes have happened, one thing has always been constant. I have always worked in the Marketing Research Industry. Like most, my arrival to the industry came by surprise–frankly a pleasant surprise. You always dream (or at least I did) about working in the same industry for your entire career (have you done the same thing?) and to be able to do that for twenty-five years is something very special and something I am very proud of. Here is why I love the Marketing Research Industry:
It is always changing. In the morning you could be working with clients in the financial services industry and then two hours later, with clients from the travel industry.

We are ahead of the market. I like knowing what products and services are coming out on the market prior to their arrival.

The people! To have met people along this journey like Ed Sugar, Jeffrey Lorber, Sandy Schwartz, Dan Krason, Janet Savoie and Steve Schlesinger (and way too many others to list all of them) and be able to call them friends is something that is so important to me!

I love the size of the industry. The fact is that the US research industry is less than 9 billion dollars makes it very appealing to me. This great industry is very small and allows you the opportunity to know so many people in so many different and types of companies.
Now your turn.
How long have you been in your industry?

What has made you stay in the industry?

Do you love your industry as much as I do?
I look forward to reading your comments.