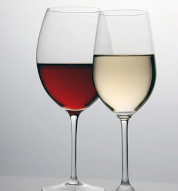 So you are out with your friends. Is it red or white?
At a wedding is it red or white?
On a first date is it red or white?
Lots of questions. Is your answer always the same? Does it depend on your mood? By now you know I am talking about wine. Red and white wine.
What is your favorite?
Do you prefer Pinot Grigio? How about a Chardonnay? What are your thoughts about Cabernet Sauvignon, Chianti, Merlot, Pinot Noir and Zinfandel? Is that what I am ordering for you?
Lots of choices!
Most high end restaurants have their own special wine lists that could be the size of a novel. As you are reading the choices from front to back, what are you thinking about?
Looking for that one special bottle?

What are your thoughts on the house wine?

Do you have a favorite wine for a special occasion?
I am curious. Do you ever pick the restaurant based on wine selection?
So once again I ask you. I am buying. Is it red or white?
Look forward to reading your comments.