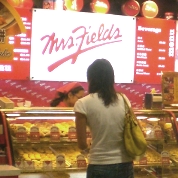 So there I am in Las Vegas at McCarran Airport. Just finished a great lunch that consisted of fries, a burger, and water and am now ready for dessert prior to jumping on a plane. I look up and there I see Mrs. Fields cookies — hello warm cookies. I sprint over there — ok walk somewhat fast — and get in a line with five other people craving something sweet. As I get closer to the counter I see two employees standing and talking with each other and every minute or so acknowledging a customer. At this point I notice there are six bins for cookies. Four of them are empty and the other two only have one in them. No problem I say (to myself). They have some hot cookies in the back and haven't moved them forward to the counter. As the countdown begins in a few more seconds I will be at the front of the line and have a few warm cookies.
The person behind the counter finally looked at me and said "yes." With excitement I respond, "What cookies do you have in the back?" She doesn't answer me and I restate: "Do you have any warm cookies? These bins are empty." Much to my surprise, she didn't answer me again although she did shake her head as to say "no." I couldn't believe it! In the middle of the day around 2:00, Mrs. Fields has no warm cookies! . . . Has no cookies and apparently staff that isn't customer friendly and really couldn't care less. I proceed to walk out of line in sheer disappointment and frankly frustration that people treat CUSTOMERS like that!
What companies have you been disappointed with recently?

Did you still make a purchase?

Will you go back to them again?
I look forward to reading your comments.
P.S. I have had other great experiences with Mrs. Fields. It just was that this one wasn't good at all.