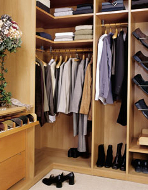 A few weeks ago I was in NY and speaking with a few industry contacts and the next thing I know we got chatting about closets. Yes closets. I know looking back on it I can't believe that there were a few of us actually discussing the subject, but we were. Quickly we drew a connection between how funny people can be with their closet and of course the blog–perfect blog topic. The conversation was really centered around this question: "How is your closet set up?"
Do you have different sections?

Is everything mixed together?

Are they color coded?

Do you move your summer/winter clothes around?
Some of you are probably laughing (I don't blame you at all), while others are probably saying "Hey! My closet is very organized and I am proud of it!"
For me, my closet is somewhat organized.
I have my suits all together

Dress shirts all together–not in order by color

Shoes lined up

Casual clothes (polo shirts) in order by color

Sweatshirts all stacked up on a shelf
Overall it works for me. I can find things pretty quick. I guess I wish I would have my dress shirts in order by color as well. Maybe I will do that.
Your turn:
What does your closet look like?

How organized is it?

How about some tips to share?

Is it a mess?
I look forward to reading your comments.