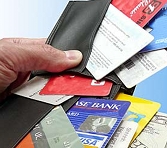 Lots of things are changing in this world–some things for the better and some things for the worse. Clearly pricing on some products and services are the lowest they have been in years.
Over the years I have accumulated a lot of points in a number of programs. Yes I have frequent traveler points in American Airlines, Marriott and American Express. Over the years the only one I have really used most if not all of my points is American Airlines. I tend to go through them quickly since I mostly use them for family vacations.
I have decided to start using the other points I have. So recently I have bought luggage, a new briefcase and some other things.
One of the main reasons I am starting to use them more often is I feel the programs are starting to change and you will need more points to travel and buy certain items. So based on that belief I made that decision. I am pretty good with acquiring points. For me I really like loyalty programs. I have an American Airlines and Marriott credit card. I also have my American Airlines number linked to my Tom Thumb (grocery store) rewards card.
What rewards programs are you part of?

What do you use them for?

Do rewards programs change your buying behavior?

Do you have any best practices in terms of getting more points from the companies you use?
I look forward to your comments.