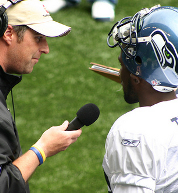 As you know I watch a lot of sports and with sports comes interviews–some during games and some the old traditional way before and after games.
I must admit I like a good interview. I like when an athlete goes out there and says something different, points out a strategy that I didn't think of or saw during the game. I guess I am looking for some freshness.
Most interviews are almost done in a robot like fashion. No emotion and the athletes or most of them are programmed to say the same thing. Here are some clichés that I am tired of hearing:
We are taking this season one day at a time

That other team has some great players on their team

The other team plays hard

We just had to come out and play our game

The other team plays with a lot of emotion

He has a great work ethic

The other team gave 110 percent

I am just going to try my hardest tonight
These are a few of the sports clichés that everyone says and frankly I am tired of.
What are your thoughts?

What clichés are you tired of?
I look forward to your comments.