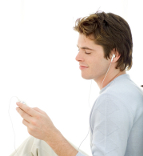 One definition of the word mentor is "A wise and trusted counselor or teacher." For me that person tends to be a business person who has tremendous years of experience and is a little older. If you stop and think of all of your mentors: your parents, your professors, your boss perhaps, they tend to be a little older.
Do you want to know about:
The latest fashion?

The latest cool piece of technology?

The new up and coming website?

The best social networking site?
I am not sure any of my mentors could answer those questions. Well if they can't, who can? You could possibly Google for some of this stuff. I think an easier way is to have a reverse mentor. This person is typically up in their early twenties and into technology, outgoing and is up-to-date on the new social networking sites. This person will be a valuable resource for you.
I have had one for about four months and it has helped me tremendously. In addition to the things listed, they can help you motivate the younger generation. For my reverse mentor I will try and speak with them a few times a month and get together every other month.
Do you have a reverse mentor?

If so, how long have you had one and has it helped?

If not, do you think it is a good idea?
I look forward to reading your comments.