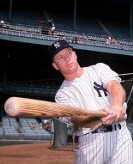 With free agency and large contracts, loyalty with athletes and teams in some ways is a thing of the past. I grew up watching Carl Yastrzemski, Larry Bird, George Brett and Brooks Robinson.
What did they have in common?
Yes they were all great players, but they also all played for one team. Yes one team–something that current great players like AROD, Shaq, Manny Ramirez and many others can't say.
The question is, what athletes wearing what uniforms make you feel a little uneasy–make you feel very uncomfortable? As I write this posting, there is a chance that Brett Favre–a mainstay in Green Bay and in my opinion is Green Bay–might be playing for their arch rival the Minnesota Vikings. Ouch! That one hurts.
For me to think about Walter Payton playing for anyone other than the Chicago Bears just wouldn't have been right!
Here are some other players that would leave a bad taste in my mouth if they played for these teams:
David "Big Papi" Ortiz playing for the NY Yankees

Paul Pierce playing for the Los Angeles Lakers

Peyton Manning playing for the New England Patriots

Mickey Mantle playing for anyone but the NY Yankees

Tim Duncan playing for the Dallas Mavericks
Okay. Now your turn:
What do you think of my choices?

Who are some of the players that you couldn't see playing for another team?

What moves happened in the past that made you scratch your head?
I look forward to your comments.