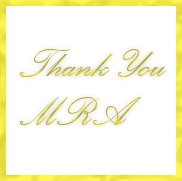 For 2,190 consecutive days I was part of something very special. My streak was longer than Lou Gehrig's by 60 but far short of Cal Ripken's streak of 2,632 baseball games played in a row.
Well as of this past Friday, my streak came to an end. I never realized that in the early part of 2003 my life would change. Not only change but for the better. You see in March 2003, I was nominated to be on the national board for the Marketing Research Association (MRA). Next stop was to cross my fingers and hope that I would win an election against two other worthy candidates. As luck would have it I won the election and the next thing I knew I was being sworn in–in front of the association at the annual conference. This was a nice time and I was honored but I didn't know what it meant. Having matured over the years, I now know that it meant a lot.
I have attended many conference calls, board meetings, participated in strategy sessions and presented many times. Yes it was work, in a lot of ways extra work, but I must tell you it never felt that way to me. I was doing something for an industry that I truly love and wanted to give something back to an industry that has given me so much.
Over the years the MRA has given me:
An opportunity to grow as a professional

Being part of a team that is so passionate and dedicated to the industry

Friendships that will last a lifetime
I have been part of many boards before but this one was different. This experience was much more meaningful and together this team made strategic decisions and moved the industry forward. I was part of something that was so very special and near and dear to my heart.
My streak of 2,190 days being on the national MRA are over and part of me is sad, in fact very sad. However, I am excited for the next generation of board members and their dedication, energy and most of all, fresh ideas.
The first thank you goes to the MRA members for voting for me. For trusting and believing that I could make a difference. I hope I did and didn't let you down.
A big thank you to the presidents whom I served under: Michael Mermelstein, Joe Ottaviani Jane Cook, Merrill Shugoll, Colleen Moore Mezler and Jon Last. What a special group of people.
Another thank you goes to Larry Brownell, Kristen Darby and the entire MRA staff. They have done a great job in a tough economy.
A huge thank you to all the board member that I got a chance to serve with. There are way too many to mention all of them but a few of them include: Adam Weinstein, Amy Shields, Ed Sugar, Elisa Galloway, Ken Roberts, Kim Larson, Mary Wang and many others.
Of course a big thank you goes to Steve Schlesinger. Over the past six years we have worked closely together, accomplished a lot and you are one of the main reasons that my MRA experience was so meaningful and unforgettable.
Last but not least . . . the late John Boni who was the person who first got me involved in the local chapter of the MRA way back in 1988. Thank you for continuing to have a positive effect on my career long after we stopped working together.
MRA, my glass is raised and I toast you!
Thank you for everything you have given me over the last 2,190 days.