I love ads. I love to look at how companies are marketing themselves these days. I find it fascinating for so many reasons. When I think of ads for jeans I quickly think of sexy men/women. Doing their thing, strutting their stuff and trying to get the attention of potential customers. I get all that. And frankly not only respect that but also know that it works! It sells and frankly sells a lot.
To me this ad takes it to another level.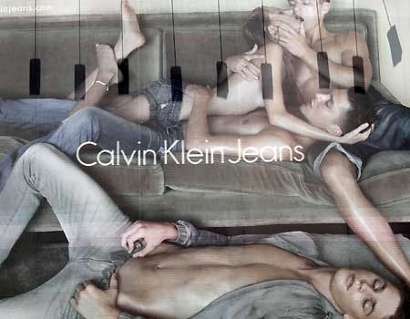 This ad is a five story billboard in New York City. The billboard has four people in it: a topless teenage girl whose elbow is strategically blocking her private parts lying on a shirtless guy. The shirtless guy has his head in the lap of another shirtless guy, who by the way is kissing the topless girl. While all of this is going on another guy is lying on the floor with his eyes closed and his pants undone.
For me all of this is a little too much! I wouldn't be comfortable if my kids saw it and since it is on a billboard lots of kids do see this. Maybe I am shy and a prude but I am not comfortable with this at all. I realize that sex sells but I think this has taken it to the next level.
What are your thoughts?

Have you seen the ad?

Do you like the ad?
I look forward to your comments.