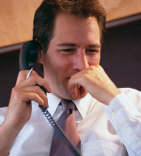 I am sure that most people who are reading the blog have taken a call from someone who is looking for a reference. They would like a little insight on how talented the person was, would you rehire them, why did they leave, what were their strengths and weaknesses and plenty of other questions.
The question is how do you handle it? Clearly that question is somewhat easy to answer if the employee was terrific, a hard worker, made a difference and you were sorry to see them go.
The questions is what if:
You only worked with them for six months?

You didn't have a great experience with them?

They always called in sick?

They missed tons of deadlines?

You worked with them fifteen years ago.

They were difficult to manage?
What do you say then?
Does it also depend on how well you know the person asking the questions?
I must admit I do struggle with this sometimes and frankly would rather NOT answer the questions rather than giving out a bad reference. On the other hand I tend not to hide my feelings about a co-worker and will mention things that need to be improved while I am working with them.
How do you handle these situations?
With more and more people in transition, this is leading to more and more of these types of calls.
I am really interested in your comments.