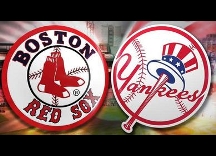 As I write this post, the New York Yankees are 2 1/2 games ahead of the Boston Redsox. The question is, how do I feel about that? Well of course I would rather be ahead, but I am NOT that concerned. The Yankees have been very hot and the Sox have gone into a hitting funk. Okay I said it. A funk. Recently the Yankees have had lots go right–like winning close ball games while the Redsox have struggled. Yes, both teams have had major injuries and both teams have had stars not contribute much, but I still feel great about the Redsox.
In fact they are STILL the best team in the American League and at the end of the season you will see that I am right.
The Redsox have the best pitching in the American League. They have given up 412 runs which is tops (Seattle is number two.) The Yankees are about to start on a difficult 20 game stretch and my prediction is that at the end of that stretch they will have seen first place for the LAST time this year!
By the way, the 20 game stretch I am referring to starts July 27, and 19 of the next 26 games are on the road–where the Yankees are slightly above 500. Yes the Redsox make the playoffs and maybe the Yankees do as well. But it will be as a wild card and they will need to come to Fenway Park for a chance to play baseball for the first time in November!
Just so I am clear — in fact crystal clear. AJ, Jennie, Jeffrey, Jon, Mark and many other Yankee fans, this Redsox fan isn't worried one bit!
Now your turn.
What is your prediction?

How are you feeling about the season?

Is it the Yankees or Redsox in the World Series?
I look forward to reading your comments.