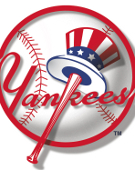 I'm sure that some of you already have an opinion prior to reading this posting. Since a lot of you are passionate and knowledgeable baseball fans, I respect that and look forward to hearing your comments.
The question is, have the NY Yankees peaked? Did they hit their stride too soon in 2009? As I write this, there are still 20 games to go in the season and yes the AL East is theirs, all theirs! The Redsox will not catch them. They have NO chance. Ok I said it. I threw in the towel and readers and fans like AJ, Jeffrey L, Jon L, Jennie L, Jeremy B and many, many others are very happy. The real question is does it matter? They won the AL East, (and by the way, will have the best record in baseball) which means they will have home field advantage in every series that they play.
Again does it matter? Did they peak too soon? Before I answer that question I need to give a little bit of my opinion. First of all CC and Tex are amazing–exactly what the Yankees thought they would be and after paying millions and millions of dollars for them, they got what they paid for. On the other hand AJ Burnett isn't that good. He leads the AL in walks and frankly hasn't figured things out. Yes he can dominate lesser teams, but remember: in the playoffs there are NO lesser teams. I am not sold on Joba or Pettitte. Joba to me is a head case. A hard thrower, yes. But a little above average and Pettitte throws junk and isn't what he used to be. Lots of playoff experience will help him. Yes Rivera is amazing and awesome, but you need the starters to do their job to give him the ball. But overall, this pitching staff isn't that scary.
The hitters are amazing. They pound the ball, hit a ton of home runs and frankly are pretty awesome. The intangible that fans need to be aware of is: sometimes the best team doesn't always win. In fact in baseball the best team with the best record rarely wins. Let's look at the history over the last 7 years. Here are the teams with the best record in baseball:
What do all those teams have in common? NONE . . . I repeat NONE won the World Series. Three out of the last seven years the NY Yankees have had the best record in baseball and NOT won the World Series. That trend will continue this year as the Philadelphia Phillies will repeat.
What are your thoughts?
Did the NY Yankees peak too soon?

What are your predictions for the playoffs?

Who will win the 2009 World Series?
I look forward to reading your comments.