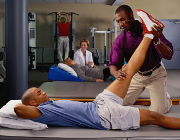 As a way to stay in shape I have been working out for the past seven years. During that time I have lifted some weights but really my workouts consist of running/walking on the treadmill while I watch Sports Center or catch up on a little reading. I love being able to do that about five times a week. For me it is a chance to clear my head and think about business, friends, and what is going on in my life.
Two weeks ago I changed it up a little bit. I actually worked out with a personal trainer. I have a number of friends (S.S. to name one) who work out with a trainer all the time and I was curious how the experience would be.
Well the call was made, appointment was set up and the day had come for my session. I must admit I wasn't even sure if I could last an hour – but soon we would find out. After a brief five minute cardio warm-up we hit the weights. It wasn't about lifting lots of weight but more about reps, technique and frankly getting to a point where my muscles (glad to find out I have some) were burning. We did a number of exercises like the one where I stood up on an aerobics step on my toes while I was leaning on a big ball and tried to hold that for thirty seconds. Well, after fifteen seconds I think I had tears coming down my face. It was amazing because it was all about body strength and not about lifting weights.
After one session I felt a little different. My body which usually is very tight seemed a little bit more flexible. I seemed to have a little more energy and felt better.
And guess what? I have already set up two more sessions and can't wait!
Have you been going to a personal trainer?

Do you like the experience?

How does it make you feel?

Any tips you could pass on?
I look forward to reading your comments.