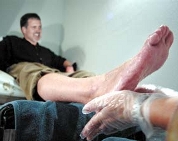 There is probably a good chance that some of you are laughing at the title of this posting. Part of me doesn't blame you – in the past certainly those activities were predominately done by females.
Well times have changed and more and more guys are getting a manicure and pedicure.
The question is:
Do I?

Do you?

And how was the experience?
I have never had a manicure – ever. Would I? Probably not in the near future. Never say never, but I just don't think it is for me. Now on to a pedicure. Have I had one? Yes, I have. In fact I had 2. Both of them took place in the past few years.
The first one was at a resort in Mexico. I had no idea what to expect, didn't ask lots of questions. It was NEVER a topic of conversation with my guy friends. (I wonder if I am or think I am too manly.) But I thought I would experience it. Frankly I was totally surprised at how much I enjoyed it. Because I play lots of sports my feet had lots of calluses on them. The person I went to said it would take about an hour. Well my feet needed so much attention, that over two hours later I was still there. Afterwards I felt like a million bucks. My feet were soft, the calluses were all gone and it was a great experience.
About a year later I went again to a local spa and the experience was the same – awesome!
Hey, guys. Do you get a manicure?

What about a pedicure?

How was the experience?

How often do you go?

Should I actually get a manicure?

Ladies, do you ever give your significant other a gift certificate for a treatment?
I look forward to reading your comments.