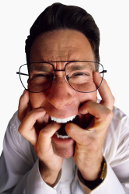 Most of the time whenever I post something, I have an idea if people will read and enjoy the topic. Are they engaged in the subject and will they add comments?
Whenever I write about a sensitive subject, I never know if readers will put their guard down and add their comments. This is one of those times.
Everyone has things they are afraid of. Everyone has things they are uncomfortable with and I am no different.
So what am I afraid of:
Snakes – I hate snakes. Always have and always will. In fact I hate seeing snakes in a movie and have a need to close my eyes.

The water and specifically drowning. Since I always skipped swimming when I was at camp to play other sports, I am a terrible swimmer and have almost drowned on 3 different occasions (AB & GS remember). I love to go to the beach BUT rarely will I go over my head in the ocean.

Failure – Not exactly sure where I got this trait. Maybe from my dad. But I hate to fail and am very afraid of coming up short on things that I am involved with. I try and work very hard to overcome that but I still have a lot of work to do.
Now your turn:
What are you afraid of?

How long have you felt like that?

Are you trying to overcome it?
I look forward to reading your comments.