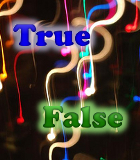 This contest is now closed. Click here to see the final results and answers to the quiz.
Time For Some Quick Friday Fun — True Or False?
The contest will close Monday, October 5 at 3:00 PM CDT, and the winners will be announced later that day. As usual, the quiz will be timed as a tie-breaker.
Good luck to all.