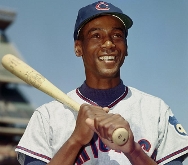 Ernie Banks

The days of players like Al Kaline who played 22 years with the Detroit Tigers, Mike Modano who has played for the same franchise for 19 years, or Ernie Banks who was "Mr. Cubs" for 19 years are close to being over. Free agency clearly has taken care of that for sure. The reality is if athletes want to make more money (and they have that right) they probably will need to switch teams a number of times in their career.
As I was watching Pedro Martinez pitch a few weeks ago, I was thinking about how great he is/was depending on what side of the debate you are on. Clearly he was dominating for many years and has played for 5 teams! I was shocked when I looked up his stats. It gave me reason to pause and start to write down other great players who have played for 4 teams. Here is what I came up with quickly:
I must admit I miss the good old days when you bought a Larry Bird, Mantle or Yaz shirt and you knew you could wear it proudly for 15 years and there was little chance they were changing teams.
Who makes your list?

What about hockey and football players?
I look forward to reading your comments.