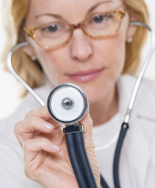 Maybe you are sick maybe you aren't. Maybe you feel great and maybe you don't. Regardless, it's easy to put off seeing a doctor – in fact very easy. Many people do it. Are you one of them? I remember the scene in the movie Arthur when John Gielgud (who played Hobson) was asked "have you seen a doctor?" John Gielgud responded "Yes, and he has seen me." I loved that movie and always remembered that scene.
As I have gotten older the questions have changed that I have asked my friends:
In my teens it was: "What sports are you playing?"

In my 20's: "Who are you dating?"

In my 30's: "How are the wife and kids?"

And now in my 40's: "How are you feeling?"
We all know tons of people who aren't in the greatest of health and I am sure that lots of them are very young. In fact younger than you would expect someone to be sick at that age.
Last month I had another physical. (I go twice a year to have my cholesterol checked) and my doctor has said I'm in good health – thankfully. He has said the same thing for a few years.
For me it would be very easy to put these visits off for months or even years. I try not to do it and hope you don't either!
When was the last time you have seen a doctor?

How often do you go?

Do you put it off like a lot of people?

As you get older what are you doing to stay healthy?
I look forward to reading your comments.