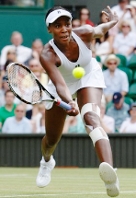 Venus Williams

Recently I was watching the US Open and a match involving Venus Williams. It was early on in the tournament. In fact it was her first match against Vera Dushevina and she was in a real battle. Yes, her opponent was playing great but that wasn't really it. She was hurt, Venus was struggling physically and had a problem with her knee. She wasn't moving well at all and you could see the pain on her face and her body movement. Not too far into the match Venus had to call for an injury timeout. She needed to have her knee taped and then try and fight through the pain and win the match.
What was amazing wasn't the fact that she played great and won the match. The amazing thing to me was the fact that she didn't want to talk about the injury. She gave a tremendous amount of credit to her opponent and didn't want to make any excuses at all. Every question that was about the injury Venus deflected like the pro she is and turned it into a positive. That was the amazing thing for me! No matter what, she had an amazing smile on her face even though she could barely walk.
So I ask you don't we all want to be like Venus Williams?

Wouldn't it be great if our staff was filled with people who always tried their best and never made excuses?

Wouldn't it be great to have a team of people who always performed at a high level even if they aren't feeling well?

What other athletes never make excuses?

Wouldn't it be great if we never made excuses?
I look forward to reading your comments and getting your point of view.