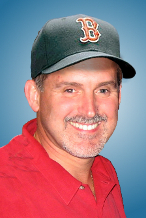 Those of you who know me really well realize that I like to wear a suit and tie to work. I guess I am old school (thanks Dad). But on the weekend it's a different story: jeans, shorts, tee shirt. And most weekends one more piece of clothing: a hat.
Last week I was getting dressed and the last thing I went to put on was a hat. So I went into my closet and picked one out. Not an easy choice for me since I probably have a few hundred hats. In fact in my office I have 11 hats hanging up on the wall. They include:
Redsox

Dallas Stars

Dallas Cowboys

UNC

Hofstra

DePaul
And a Superbowl hat with the St Louis Rams and New England Patriots logos.
As you can see I have lots of hats and frankly really like hats. The question is, what are my favorites? Which ones mean a little extra to me? Which ones won't I wear out in the rain? Please stop laughing. I am sure many of you have hats you will or won't wear out in the rain.
Here are a few of my favorites:
No surprise the first one is a Boston Redsox hat that is red with a Sox logo and the word "Believe" across it. Love the hat and got it during the 2004 playoffs when the Redsox won the World Series.

I also love a dark blue hat with the number 8 on the front. I actually won the hat in a bet (thanks RH) and the 8 is the number of my favorite player Carl "Yaz" Yastrzemski

Another one of my favorite hats is from the 2008 NBA Finals. The hat has the Celtics and Lakers logo on it with the word "Finals" across it. I went to the game with my college roommate (KW) and had an amazing time.
Your turn.
Do you wear hats?

What is your favorite hat?

Do you like your significant other in a hat?
I look forward to reading your comments.