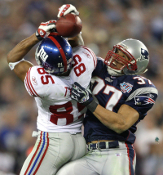 So there I am in Las Vegas with five of my friends. It's a Sunday in February and the big game is only a few hours away. No, I am not referring to a poker tournament or a black jack table. I am referring to the Super Bowl. This game would be amazing. It has my undefeated New England Patriots against the New York Giants. Since the Patriots had beaten the Giants a few weeks earlier and they hadn't lost in over a year, one could make a case that they would win this game as well. I actually don't really want to spend too much time on the game (congrads again Giants fans) but rather one play and one football player.
His name is David Tyree. He was born in NJ and was a sixth round draft choice of the Giants. He didn't catch a lot of passes during the year but during the Super Bowl that all changed. He made one of the most amazing catches ever. It made every highlight reel and in fact I believe was the ESPN play of the year. The play was known as the "helmet catch." David leaped high over everyone (especially Rodney Harrison) to make an amazing catch and help lead the Giants to a Super Bowl victory. Without that catch they probably would have lost the game.
I am sure there were a lot of people, myself included, who thought this was David's coming out party. Next year would be a break-out year, a perennial Pro Bowl player and who knows–the hall of fame. Ok maybe I am stretching it a little bit.
Yes he got hurt the next year in training camp and a few weeks ago the Giants cut him.
What happened?

Did he not work hard enough?

Was that his only moment to shine?

Did he lack talent?

Did he get complacent?

I am sure we all know people who haven't reached their full potential — was David one of them?

What advice would you give him?
I look forward to reading your comments.